San Luis Obispo - T + S Youth Volleyball
Join the fastest-growing youth volleyball league
in San Luis Obispo - T + S!
Girls & Boys 8-week Volleyball League
When:

Tue, Sept 12, 2017 - Sat, Nov 04, 2017
Where:

San Luis Obispo - T & S at Loma Vista Gym
Days:

Tue: 6:30 - 7:30 PM or 7:30 - 8:30 PM &
Sat: 9:00 -10:00 AM or 10:00 - 11:00 AM
Price:

Early Registration: $135 due by 7/1/2017
Regular Registration: $155 until 8/1/2017
Late Registration: $185 until 9/1/2017
Ages 7-15 (Divisions: 7-8, 9-10, 11-12, 13-15)
(Age divisions are determined by child's age on November 1st of participating year)
USYVL is a volunteer organization and does not require any fundraising. Make a difference in your community by volunteering. Questions? Call 1 888 988 7985 or contact us for more information.
(No registrations will be accepted after the Late Registration deadline unless space permits.)
Multiple Child Discount: 2nd child or more, deduct $10 for 2nd, 3rd, etc. Price includes volleyball, uniform jersey, and a USYVL individual award!
Want to play?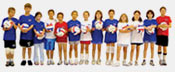 You're not alone! Over 155,000
kids have learned to play
volleyball with us!
The USYVL has youth leagues
all over the country.
Find a league nearby.

Enter your zip code to find
a league nearby!
Start a new league!

We can help you start a
volleyball league in your area!
» Start a League